Fondation de France welcomes and looks after young, homeless mothers and their newborns, to help women who are in distress or living in great poverty. In times of Covid, this assistance is more than necessary to support the first few minutes of life.
Here is a little-known fact: with the pandemic, the number of destitute young mothers who find themselves out on the streets after they have given birth has increased. In the Paris region, the Samu Social (emergency service for homeless people) saw more than 200 women with their babies, without a home, whereas hospitals only have the capacity to keep them a few days after the birth. And things are just getting worse, notes Doctor Anne de Truchis, head of the mother and baby unit in the Vésinet Hospital. Alarmed by the situation, Fondation de France quickly intervened to fund the day center so that babies could be fed, washed and spend a few hours in the warm, in a comfortable and friendly environment. For more lasting impact, Fondation de France supports projects for these young mothers, as part of its Children Program. This is the case for the Maison de la jeune fille Jane Pannier (Jane Pannier Home for Young Women in Marseille). The home offers workshops on perinatal issues for young migrant women recently arrived in France, most of whom are Nigerian, having suffered from human trafficking. The Espace Solidarité Insertion Familles (Solidarity and Integration for Families) at Emmaüs Solidarité in Paris is another project of this kind. Its objective is to welcome and monitor homeless parents and children or in a social care facility, witnesses or victims of physical and/or psychological violence. For its part, the local network for perinatal care and access to care, SOLIPAM helps support very poor pregnant women towards true independence. The projects above reveal the range of needs and the portfolio of projects led by Fondation de France to meet those needs.
Three questions for Anne de Truchis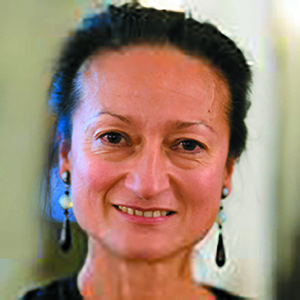 Head of unit, pediatrician and hospital practitioner at the Vésinet Hospital. She manages a day center, supported by Fondation de France, in the perinatal care unit for women facing financial hardship.
Who are the women who come here?
In addition to medium-length hospital stays, we offer day hospital care to women made vulnerable during their pregnancy, because of underlying conditions. Three quarters of them have endured social hardship, and some of them live on the streets. They might present a mental disorder, a disability, learning difficulties, addiction, sometimes combined, which impacts directly on their relationship with their baby. Some of them are migrants who have been ill-treated (forced marriage, excision, violence) which forced them to flee their country. Like all professionals, we have noted an increase in multi-trauma conditions in these anxious women, detached from reality.
What are their most urgent needs?
The perinatal period is a time when they are very vulnerable. Our team will "carry" them during their pregnancy and we'll be there when they care for their baby. They all need psychological and medical care (dentistry, ophthalmology, nutrition, to manage depression and so on). The quality of care the mother receives shapes the relationship she builds with her baby. Psychologists and neuroscientists remind us that the quality of the relationship is instrumental to the child's development.
What help do you provide them?
The day hospital offers care for several months, in half-day periods. Women and their babies consult doctors (child psychiatry, pediatrics, gynecology, general practitioner). They benefit from care with a childcare nurse and care assistants and take part in support groups on breast-feeding, baby massage, childcare and so on. They also meet up for the solace of a meal together, where they can relax and get some information. There are only two departments of this kind in France, the ARSs (regional health agencies) are considering opening others. Each year, we organize a party at which women come and testify to the benefits of our assistance. A helping hand has meant that some of them found a job, lodging and their autonomy, and were able to make a fresh start.
---