A painter, sculptor and member of the Paris Fine Arts Academy, Gérard Garouste has been committed to working with underprivileged children for the past 25 years. In 2013, with his wife Élisabeth Garouste, he created the Fondation Source des sources, (Source of Sources Foundation) a donor-advised fund at Fondation de France. More in this interview.
What is your vision of philanthropy and the part it plays in society?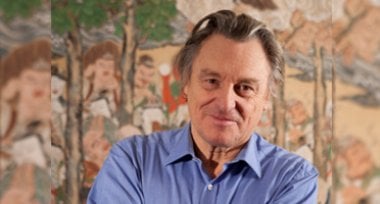 Philanthropy is essential. Nowadays, our society is mostly governed by financial interests, we rush around all the time and hear nothing but "what about me"... Governments themselves have no global vision of everything that's happening in the world, on all the continents. They implement self-centered and self-serving measures, at the polar opposite of the philanthropic attitude they should be adopting. We are in a time of crisis, things are moving increasingly faster. And yet, it would be good, in fact it is crucial, to take time for introspection. We need to return to an attitude of generosity and open-mindedness and we especially need to reach out to others. Philanthropy is the ideal solution for society to function smoothly.
How would it work in practical terms?
Philanthropy is a discipline everyone should apply to themselves. We need more than a few philanthropists to make the world a better place. We all need to be aware of this, whatever our role in society. The biggest job a person can take on personally is to develop a feeling of tolerance and generosity. That's philanthropy!
You yourself are very committed to your foundation. How does your work as an artist and your commitment to philanthropy play out?
My job is to be a painter but when I step out of my workshop, I have a duty to be a good citizen. I got a lot from society and need to give it something back. I asked myself what I could do as a painter. In the provinces where I live, there are large families in difficulties, a stone's throw away from me. Which is why, 25 years ago, I created La Source, to help underprivileged children take part in art workshops facilitated by educators and artists.
My life is based on "passing on." I am keen to pass on what I have acquired, during my stay on Earth. "La Source" are the adults who pass on wisdom, the art of living, who teach youngsters how to work, develop a sense of responsibility and also how to dream. We need to teach our children to follow their dreams to the very end.
In what way does art drive social inclusion?
Art is the most vital thing in life. You need to enjoy the poetry of every moment of daily existence, looking for harmony and beauty and finding meaning in our values again. This is no luxury, this is vital. As an artist, you can place children in front of a work of art, but art is already in them. You just need to let them express it. Learning to look, respecting nature, society and oneself, this can all be learned. The important thing is to be receptive and tolerant with others. Philanthropy starts with kindness to others. It is the opposite of being self-centered and self-serving.
What satisfaction do you draw from your commitment?
I've been able to involve many people in the La Source project. I've been very invested in it and now the project belongs to everyone.
My greatest satisfaction is the feeling of having taken part in something useful. Being able to see all these happy children and seeing that we have provided them with something is a precious thing. When you look over your life, that's what stays with you.
---