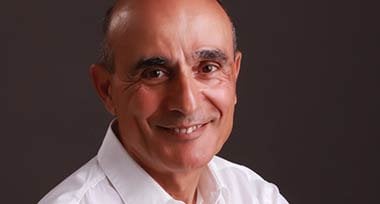 Born in Beirut with France his adoptive country, this former entrepreneur created Fondation Ghazal pour l'Éducation, la Recherche et la Paix au Liban (Ghazal Foundation for Education, Research and Peace in Lebanon) in 2012. This is a foundation that strives to help the country's communities to live together more harmoniously and to contribute to its reconstruction – all the more crucial given the tragedy that occurred on August 4, last year.
You often hear of blood ties, but ties to one's birth country should never be forgotten. Michel Ghazal is living proof of this. He was born in Lebanon and, in 1973, he came to Paris to follow a graduate management course, thanks to a grant from the French government. With his PhD, he settled in Paris and created his own consulting firm, specialized in negotiation training and conflict management, but his thoughts still went out to his country, which he supported with regular donations. In 2012, after a successful career, he sold his company and decided to carry out a project he was deeply attached to: "Training was the keystone of my professional career and personal development. I wanted to give a little something back."
He therefore created the Fondation Ghazal pour l'Éducation, la Recherche et la Paix au Liban, a Fondation de France donor-advised fund, to address three precise themes. Working with the social services of Université Saint-Joseph de Beyrout, the foundation allocates a dozen grants each year (renewable over the course) to deserving students from modest backgrounds. Financial aid is coupled with more personal support as Michel Ghazal visits Beirut every year to meet students, discuss their projects, possible further studies in France and so on. Fondation Ghazal is keen to promote access to culture for all and offers a dozen or so outings relating to the arts and the environment, to pupils from public school in Jezzine, where Michel Ghazal's father was born. Whether it's visiting a museum or planting a tree, each experience is a breath of fresh air for the children, who are mostly confined to their homes because of their extreme poverty.
But all that wasn't enough for Michel. "I dedicated my life to negotiation and conflict resolution. This was a particularly sensitive topic in my country after the civil war (1975-90) which destroyed it and killed a quarter of a million people." Since 2012, each year, Fondation Ghazal has been supporting a grassroots nonprofit on the ground, which strives for a more harmonious co-habitation among Lebanese people. Chaml, a nonprofit recognized in 2019, founded a university for non-violence in Beirut. Chaml regularly produces plays, in which people from different communities come together to perform, and works on reestablishing a community spirit among residents. Some of them had had to flee their village during the civil war.
The explosion on August 4, 2020, led to Michel Ghazal working alongside Fondation de France to raise funds for Lebanon. His foundation supports teams on the ground that look after the most destitute families and takes part in saving some 650 historical buildings damaged in the explosion. It also contributes to the France-Lebanon endowment fund, for Lebanese students in France, whose parents can no longer support them.
In addition, Michel Ghazal regularly communicates his views on a collaborative blog, commenting on the news and reminding us constantly of the power of diplomacy and negotiation. Because of the hate and violence that flare up in Lebanon and in the world.
Winners of the conflicts and peace's prevention Price in Lebanon:

2020: Al Majmoua
2019: Chaml
2018: Afel
2017: Mouvement Social
2016: Amel
2015: Arc-en-ciel
2014: Offrejoie