Reading is the first step on the road to knowledge, and illiteracy can lead straight to inequality. To mark International Literacy Day on September 8, we take a look at how Fondation de France and several of its donor-advised funds are taking action to help those most in need learn the fundamentals of this key skill: reading.
Illiteracy is a scourge that affects close to 2.5 million French people, the equivalent of about 7% of the population. Yet we all know that not mastering the schoolroom basics, reading writing and arithmetic, is a factor that compounds social inequalities as well as a source of shame. Which is why action must be taken in primary schools to improve the acquisition of these skills, starting with reading. Quite rightly considered the key to success, reading gives access to knowledge and understanding. In this respect, reading helps prevent early school leaving. However, the statistics for young people are not encouraging. 20% of schoolchildren have not mastered the fundamentals when they leave primary school, and close to 15% of junior high school students have difficulty reading and understanding a text. When the schools closed because of the Covid-19 crisis, thereby making learning even more difficult, especially for students already struggling or living in an environment not conducive to schoolwork, French President Emmanuel Macron declared reading a national priority through summer 2022.
Knowing how to read – a springboard to the future
Already aware of this issue for several years, Fondation de France and several of its donor-advised funds initiated outreach programs to encourage children to read. In particular, Fondation Lire et comprendre (Read and Understand Foundation), which has been supporting ten or so projects since 2015 in several French regions. These initiatives are designed to help children with learning difficulties who come from disadvantaged neighborhoods master the fundamentals of reading and understanding texts. A pioneer in its approach, the foundation chose to get involved as early as possible, starting in kindergarten and first grade, two pivotal periods in terms of learning. By attacking the problem of early school leaving at its root, the foundation hopes to promote equal opportunity and fight social determinism.
"My commitment comes from my personal history. I owe everything to school and books," confides Lila Bidaud, founder of Lire et Comprendre. "My mother was illiterate and for me reading was a lifeline, my happy place. Reading allowed me to learn everything I know, and was a source of immense pleasure." To transmit this passion and realize its goals, the foundation relies on non-profits like Eveil Mat'Ins to promote its call for projects every year. Supported for over five years, Eveil Mat'Ins offers daily help to students in kindergarten and first grade up to fifth grade from disadvantaged neighborhoods in Mantes-la-Jolie. Beyond actions in collaboration with parents and teachers meant to strengthen reading and comprehension, the goal is to promote language as the bedrock of citizenship and social integration.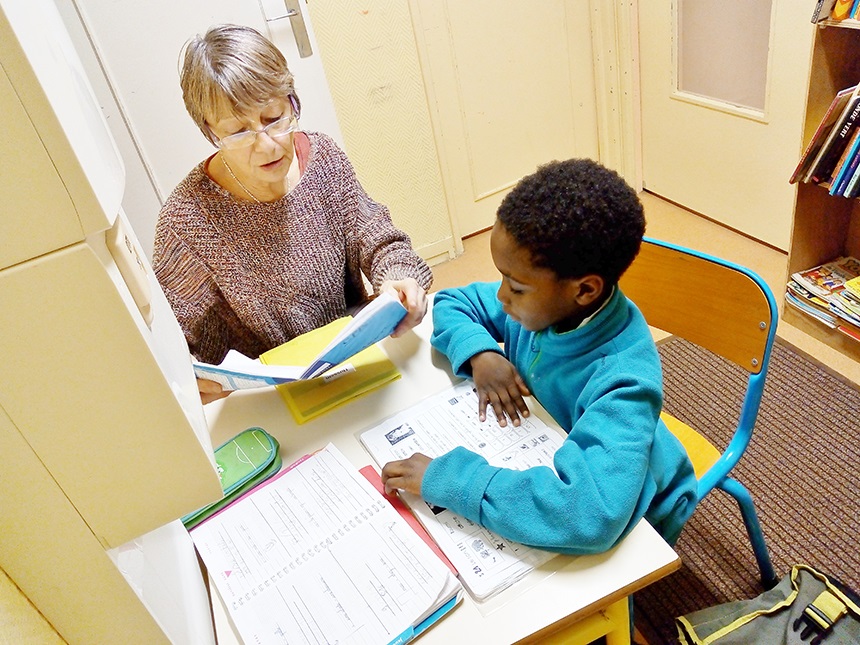 Using books to combat inequality
Another major player in the fight against illiteracy is Fondation du Crédit Mutuel, which developed a program over the last 20 years called "Reading, Prevention, Education." The program relies on the national non-profit network Quand les Livres Relient (Books as Links), which connects 250 organizations all over France. Their numerous initiatives promote reading and books by reaching out to families through early childhood services, libraries, hospitals, prison visiting rooms, etc. On the agenda: young adult literature awareness workshops, reading aloud, shared reading in parental support programs and mobile libraries for young readers in distant parts of Aquitaine, Burgundy, Brittany and the eastern Pyrenees. In addition to these actions designed for the youngest readers, Fondation du Crédit Mutuel is also working with adults dealing with illiteracy, including people who have immigrated, are unemployed, or are incarcerated.
Reading to help cultures coexist and understand one another
The non-profit Dulala, supported by Fondation de France, is working on another issue, one that is encountered by children whose mother tongue is not French. Dulala has developed an expert approach to plurilingualism and multicultural learning. Their vision is to make multilingualism in French society a lever to promote equal opportunity and fight discrimination. A pioneer in the field, the association designs pedagogical tools and ready-to-use activities for education professionals to develop children's plurilingualism. One of their more recent projects is a "language pack," a fun and innovative activity for educational staff working with children from 3 to 8 years old. It helps introduce children to reading and plurilingualism through traditional folktales in French, foreign languages taught in schools, and other foreign languages spoken at home. With over 200 copies distributed, the Dulala language pack has helped 75,000 children.
---